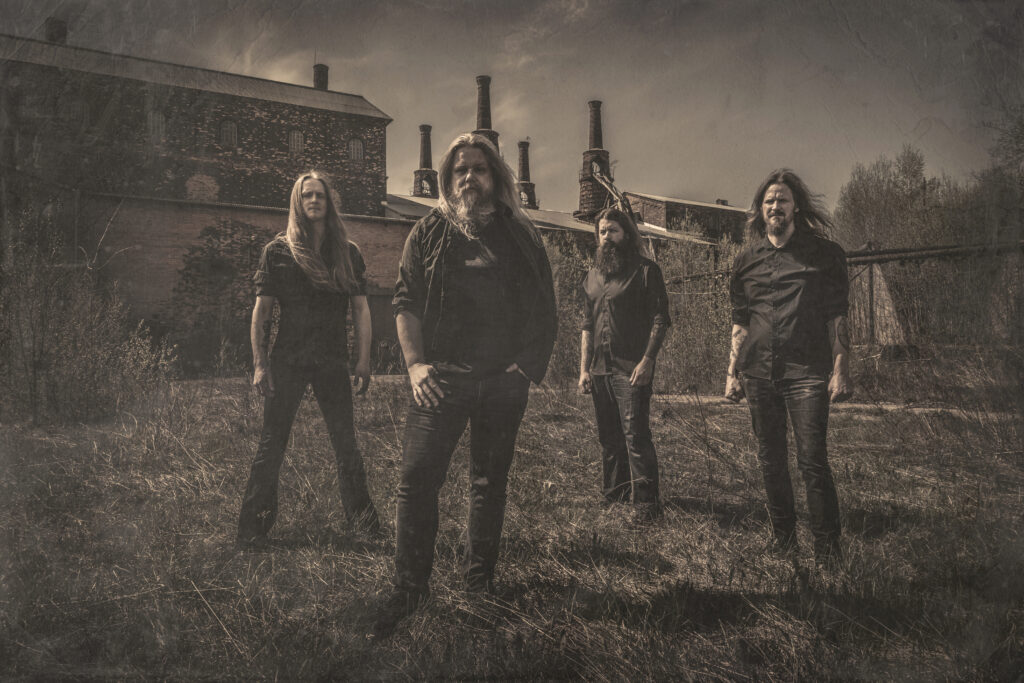 ISOLE BIOGRAPHY:
Isole formed under the name Forlorn back in 1990 with two sole members: Crister and Daniel. Several demo tapes were recorded in the 1990s, including Waves Of Sorrow in 1994 – a recording still revered by epic doom metal fans. After a few years of turmoil, in which the band suffered a myriad of line-up changes, I Hate Records approached them in 2003. With a newly signed contract and much motivation, the band saw it fit to adopt a new moniker, thus becoming Isole.
Isole's debut album, Forevermore, was released in early 2005 and followed up with a 7″, The Beyond, in early 2006. Isole now had a steady line-up with Jonas Lindström on drums and Henrik Lindenmo on bass alongside Crister & Daniel. The next album, Throne Of Void – released in the summer of 2006 – delivered an even darker sound than it's critically acclaimed predecessor.
The next step in Isole's journey was signing with major label Napalm Records and the release of Bliss Of Solitude, which was recorded, mixed, and produced at Studio Apocalypse by the band themselves. The mastering was done by Thomas Nilsson, and Peter Sallai provided the finishing touches with his magnificent yet eerie cover artwork. Bliss Of Solitude received overwhelming positive feedback from fans and critics alike; however, Isole did not fall prey to idleness and continuously worked on new material for their fourth album, Silent Ruins. It was an ambitious concept album in which the band ventured into new territories by incorporating more variation and increasing the pace of the songs.
After releasing four albums in four years, Isole slowed things down. They decided to take a break from the studio and focus on playing live in order to gain some perspective before returning to the song writing process. After touring in more than 10 countries, the band was ready to expand the discography in 2011. Isole's fifth release, Born From Shadows, is the continuation of a story that began in 2005 with "Moonstone" on the debut album Forevermore and then "Shadowstone" on Bliss Of Solitude. Then Henrik left Isole and Jimmy Mattsson joined as the new bassist.
3 years later Isole left Napalm Records and begun a collaboration with Cyclone Empire which resulted in the slightly more progressive opus The Calm Hunter with a cover art made by Travis Smith. Directly after the release of The Calm Hunter Jonas decided to quit the band and after some turmoil Victor Parri joined behind the drums.
Things have been a bit quiet around Isole after the tour they did to support The Calm Hunter but time has now come for the next chapter in the Isole saga, they have dwelled in the shadows long enough and will spread their wings of melancholy again now allied with Hammerheart Records. The new opus Dystopia with stories of this deteriorating world weaved in melancholic melodies will be out 2019. Once again recorded at Studio Apocalypse and Gustavo Sazes (Arch Enemy,Firewind) provided his artistic know-how to convey a feeling of mysticism and darkness through his symbolic artwork, while Mika Jussila Finnvox Studios took on the mastering responsibilities.
With their first releases, Isole were able to secure an excellent reputation within the doom metal underground. Then with Bliss of Solitude and Silent Ruins they elevated their status even further. Now with their anticipated return with Dystopia Isole will secure their well-earned position in the doom metal scene.